From this Topic Page you should be able to access with just one more click everything we have on this topic including webpages, pdfs, video files etc. If you cannot find what you want then please email onshore@seafish.co.uk and explain clearly the information you need.
This Topic Page is about the Seafood Training Academy prospectus
---
Background
Seafish have developed a number of training courses for the fish and shellfish industry. Some of these courses are approved by external organisations such as CIEH. Some courses are joint awards between Seafish and other organisations such as REHIS, and some courses are just approved by Seafish as the authority on seafood.
All of these courses are recognised by the Seafood Training Academy, and all of the Seafish approved courses represent high quality, cost effective training programmes that are in demand by employers in the fish and shellfish industry.
Seafish approved courses can be taken on their own, or as part of the learning component of a larger activity such as a management or skills development programme as represented by the Level 2 and 3 fish and shellfish suite of vocational qualifications.
The Seafood Academy Prospectus outlines each of these courses and programmes. The prospectus can be downloaded here as an interactive pdf. A fold out printed copy can be ordered from Seafish in Grimsby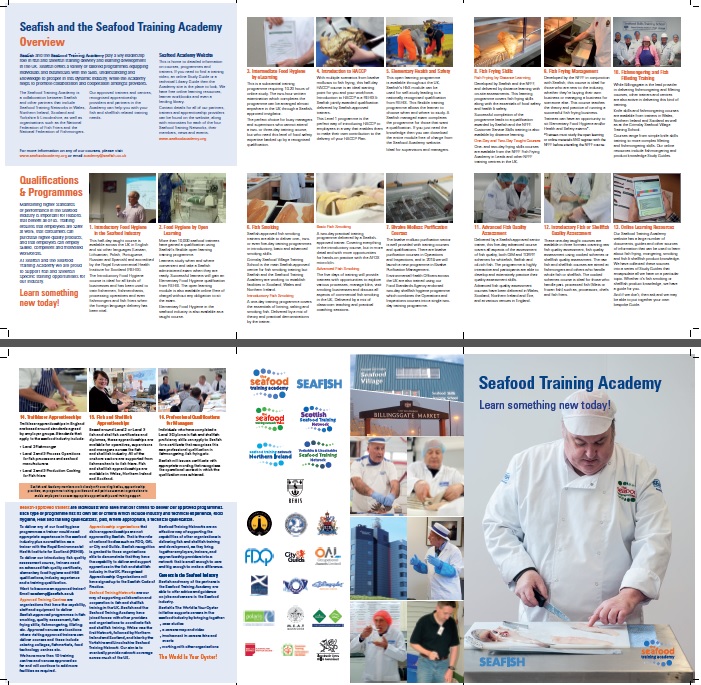 ---
Courses featured in the prospectus include:
Health and safety - available at Levels 1 and 2. The Level 2 programme is an open learning module or taught course approved by CIEH and REHIS. The Level 1 programme is a REHIS approved taught course.
Smoking fish and shellfish - Seafish has a Level 3 eLearning programme that is free and hosted here on the Academy website. They will have taught courses available soon.
Bivalve purification courses - Operations, Management, Inspections and HACCP courses from two Seafish approved shellfish training centres.
Fish frying skills and customer service skills - in collaboration with the National Federation of Fish Friers, Seafish developed these two distance learning programmes. To register to undertake either of these programmes, please contact the NFFF training school in Leeds.
Seafood Academy recognised courses - The Seafood Training Academy will recognise training courses, trainers and centres that meet our high standards for quality and value.
---
Pending Content
New courses are developed every year by the Academy and our Partners.
Coming soon - crab picking training programme for Chefs and members of the public. If you have a suggestion for a new training programme please email onshore@seafish.co.uk
---