From this Topic Page you should be able to access with just one more click everything we have on this topic including webpages, pdfs, video files etc. If you cannot find what you want then please email onshore@seafish.co.uk and explain clearly the information you need.
This Topic Page is a guide to Oysters, mussels and other bivalves.
---
Background
All of the content for this Topic has been drawn from previous versions of Seafish's The Seafood Guide. To purchase a copy of this large format full colour 63 page publication (£5.00 per copy) please visit the Seafish website here.
Sources of Information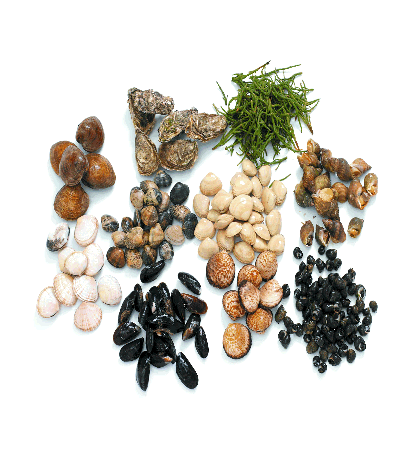 Top Row, left to right  1.Clams – Hardshell   2.Oysters (Pacific)    3.Samphire
Middle Row  4.Clams – Venus   5.Clams – Palourdes     6.Clams – Praire 7.Whelks