Information on courses, events, apprenticeships etc can be found on the appropriate webpages to the left. This page is dedicated to training and Network related News of interest to employers and employees in the fish and shellfish sectors of Wales. Links to other News sources are provided.
---
Fish Smoking and Filleting Courses are a success for the Network
Training courses in fish smoking and filleting skills were delivered in both South Wales and North Wales during February 2016. Advanced apprenticeships were launched in North Wales at an employer event in Conwy. For a full report click here.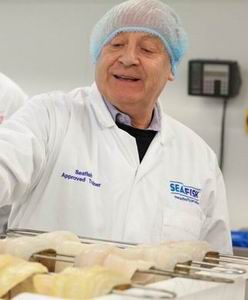 Dr Holly Whiteley, Seafish Wales project manager said "The positive feedback we've received on these workshops and the huge amount of interest in further, more advanced filleting courses is really encouraging. There is clearly a growing demand for this type of training and the Seafood Training Network Wales is well placed to deliver this for the Welsh seafood industry. The Network will be consulting industry in Wales about an on-going programme of training courses and workshops shortly".
Network Steering Group sets targets for next 18 months
The Steering Group of the Welsh Network met in Llandudno on the 18th June 2015 to set targets for the next 12-18 months. These ambitious targets included apprenticeships, training courses and educational activities. To find out more about these challenging goals click here.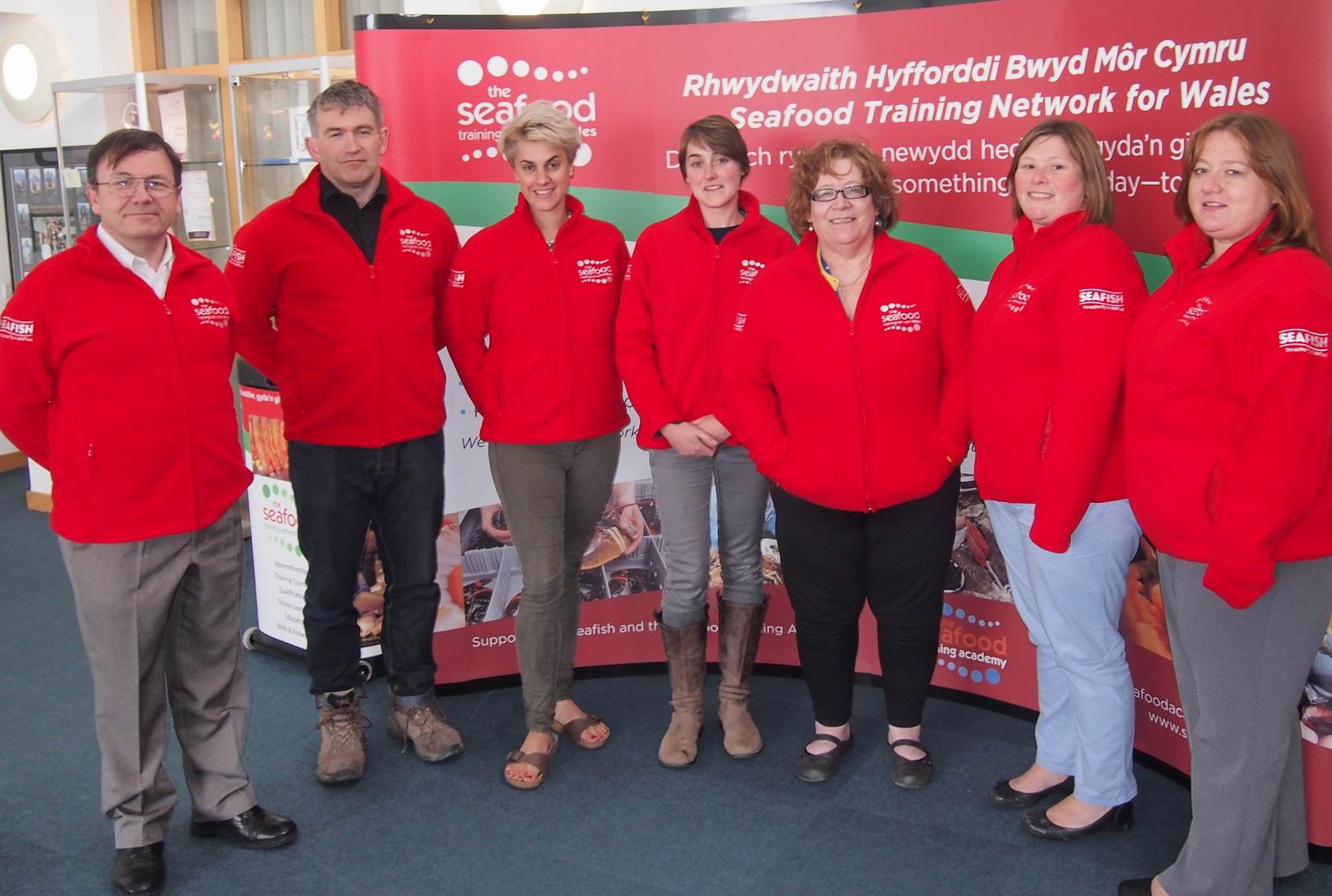 The Steering Group meeting attendees are: (Left to right) Lee Cooper (Seafish & Seafood Training Academy), James Wilson (Chair and Bangor Mussel Producers Ltd), Caroline Dawson (Cywain Fisheries) Holly Whiteley (Seafish Wales), Ursula Hartland (UKRS Training), Sian Davies (Cywain Fisheries), Bethan Jones (Welsh Government)
Training Equipment Presentations
Sets of equipment for fish filleting training were presented by Seafish to Llandrillo College and to UKRS Training Manager Ursula Hartland (pictured below). The equipment will be used to support educational events through the College and for Ursula to deliver fish filleting training in Wales.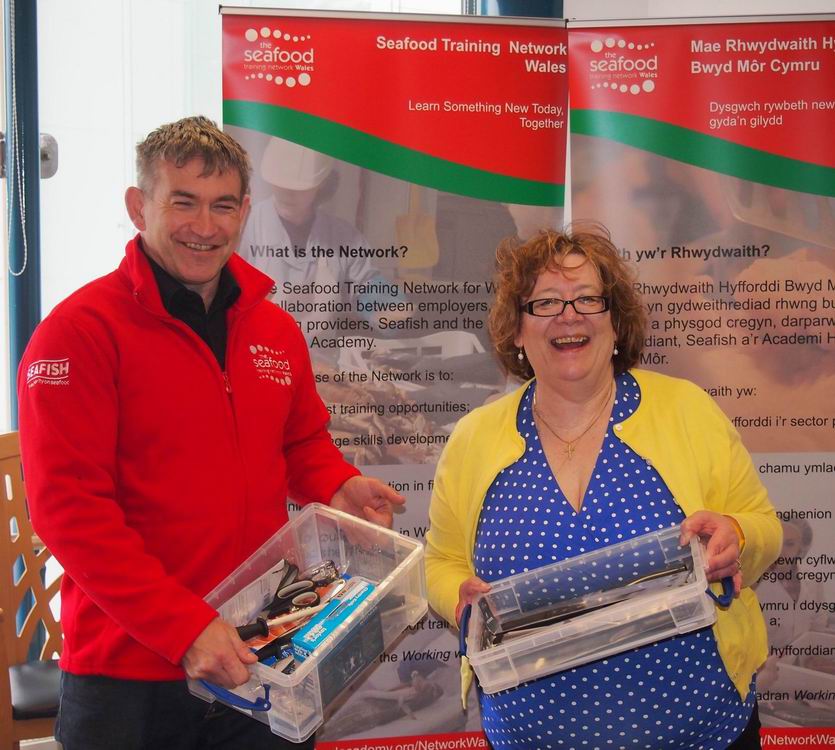 ---
First Advanced Fish Quality Assessment course for Wales
Training course delivered early March 2015 - see course photos
Early Success with Funding for Wales - Oct/Nov 2014
Employers in Wales have benefited from a small amount of pilot funding from the Welsh Government. The funding is helping employers to undertake fish preparation (knife skills) and fish frying training that is 70% funded by the Welsh Government.
Other funding is on the horizon as Improve Ltd secures UK wide Women & Work funding. The W&W funding is intended to help redress the lack of women in senior technical roles in the food industry. The Seafood Training Network for Wales has done its bit to apply for this funding as part of a larger Seafood Academy application. news on the application is due any day now - November Update - successfully received funding for quality assessment, fish frying, food safety and other training opportunities. Want to access funding? Click here to find out more.
Launched in September 2014, "the Network" attracted immediate media attention with a BBC Radio Wales radio programme. It aired at 7.15am and 15.45 on Sunday 28th September. Click on this mp3 file to listen to the broadcast.