From 2015 we suspended regular updates to this page. For the most up to date news from Seafish please visit this part of their website .
we will still post major training related news items here on an occasional basis.
If you cannot find what you want then please email academy@seafish.co.uk and explain clearly the information you need.
---
See also News for Fishmongers and News for Fish Friers.

---
Background
Seafish's regular Industry newsletter is emailed to 1,000s of industry and general contacts in the UK and overseas. You can register for your free eNews on the Home Page of the Seafish website.
This webpage contains extracts from the eNews newsletter on apprenticeships and related issues.
---
Recent eNews Content
May 2015 - Scottish Seafood Training Network launched.
March 2015 - Seafood Training Network for Northern Ireland launched
February 2015 - Advanced Fish Quality Assessment course for Wales
December 2014 - programme of courses announced for World Seafood Congress 2015
November 2014 - Women in work funding launched
July 2014
In the July eNews we covered the imminent launch of the Seafood Training Network for Wales and the £255,000 fund for training that is available for fish and shellfish businesses in Wales. Other things of note include: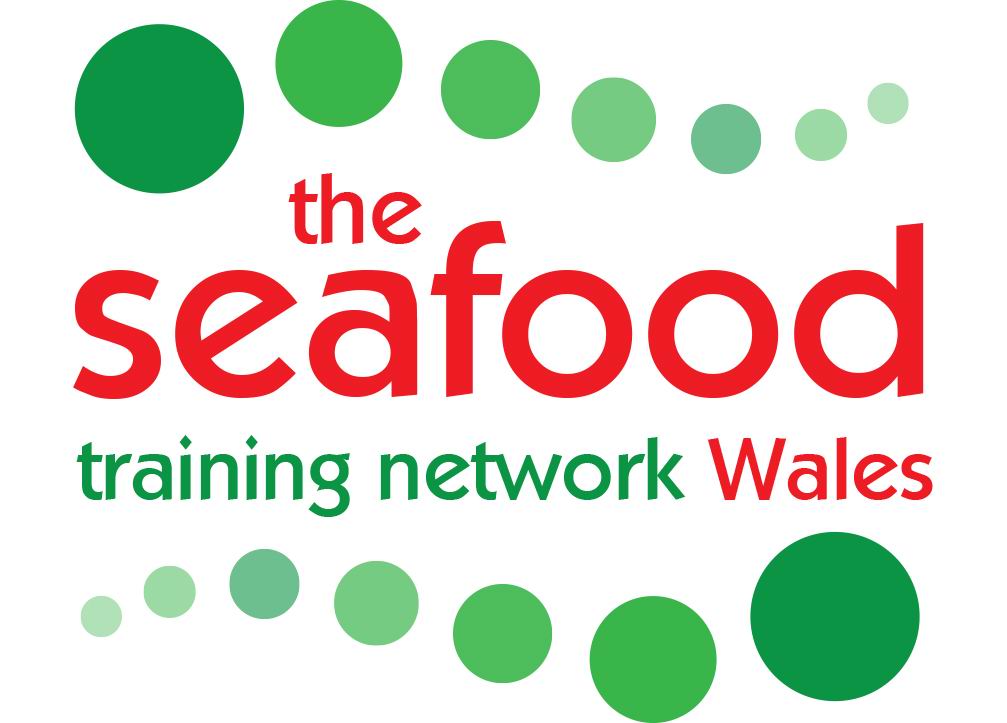 Seafood Training Network for Wales - main page

see the full text here. Purple text notes additional content not published in original eNews/

March 2014

Seafish eNews March 2014 – additional content

As space in the Seafish eNewsletter is restricted, additional content is included here, in purple. Topics we have expanded upon in the supplement include:
Apprenticeship Week Success
Launch of Fish and Shellfish Apprenticeships in Northern Ireland
SW (England) Apprenticeships Expanding
Seafood Training Networks for Wales, Northern Ireland, Scotland and SW England;
Advanced Quality Assessment Course oversubscribed, so we'll organise a second one in N Wales;
Fish smoking courses launched by Seafood Training Academy and to be delivered in Cornwall in late April;
North Devon Apprenticeship event report; Duchy College delivering crab picking training course;
January 2014
Advanced fish quality and fish smoking courses planned for 2014
Seafish have plans to offer its existing five day advanced fish quality assessment course at several venues during 2014. Please register your interest in this course by emailing academy@seafish.co.uk
Funding for seafood training in Wales
The Seafood Training Academy is pleased to announce that it has secured funding for individuals working in the fish and shellfish industry in Wales for training. Up to £1000 per person will be made available for approved training. Employers are expected to contribute 30% (SMEs) or 50% (large companies) towards the cost of training and related costs. Funding is available for training until November 2014 and we will publish more details very soon on this webpage.

Generous apprenticeship incentives for Birmingham and Liverpool
In England, the age related apprenticeship incentive is worth £1500 per apprentice. In Liverpool and Birmingham this grant is worth £3000, subject to status and availability.
For more details on this funding please download this leaflet. More information on apprenticeships can be found here. Similar funding for employers is available in Wales, Northern Ireland and Scotland. Please contact the national Apprenticeship Service for more information.
New onshore advanced apprenticeship for Scotland
Seafish announced the accreditation of the new level 3 fish and shellfish industry SVQ earlier in November 2013. By January 2014 it is expected that this will be available as an Advanced Modern Apprenticeship for processors, mongers and fish friers. More information for Scottish employers is available here.
Smoking Courses
We also plan to offer our new five day advanced fish and shellfish smoking course in mid 2014, subject to demand. Please register your interest in this course by emailing academy@seafish.co.uk
---
Archived eNews Content
November 2013
Blackpool College launches apprenticeships in Lancashire
Blackpool College, in collaboration with Seafish and the Seafood Training Academy launch fish and shellfish apprenticeship support at the National Federation of Fish Friers Region 6 meeting in Burnley on Sunday 10th November. The roll out of intermediate and advanced apprenticeships will start with invitations to participate being sent out to key fish friers in Lancashire during late November 2013. These apprenticeships are also suitable for fishmongers and processing companies. For more information on apprenticeships please go to our apprenticeship information webpage or the page on apprenticeship providers.
October 2013
Fish friers and added value fish processors will be interested to hear that the Level 2 fish and shellfish qualification/intermediate apprenticeship should shortly receive a boost when a number of new units are added to the framework. The new units in food service and compliance will be welcomed by small and large employers alike.
Scotland - the Level 3 SVQ framework has been submitted for accreditation and should be available to Scottish employers in early 2014. The new SVQ will underpin advanced apprenticeships throughout Scotland.
Level 3 qualifications continue to be popular with small businesses such as Seafood Ltd in Burnham on Sea.
---
September 2013
Fish friers continue to be enthusiastic adopters of the Level 2 and 3 fish and shellfish industry skills qualifications and apprenticeships. In many ways they are leading the way for the rest of the fish and shellfish industry to follow. One such leader is the Elite Fish and Chip Company of Lincolnshire.
---
August 2013
Fish Friers take up apprenticeships with enthusiasm - Mister C's, Elite Fish and Chip Company
Advance Apprenticeship in fish and shellfish industry skills for England - approved months ahead of schedule.
AFOS Kiln undergoing final filed trails before first smoking training courses announced.
---
July 2013
Management Qualifications for Scotland in fish and shellfish skills
Following on from the successful launch of management level fish and shellfish qualifications in England, Wales and Northern Ireland in June, we are pleased to announce that Seafish and Improve Ltd will be progressing with the development of a Level 3 SVQ in fish and shellfish industry skills, starting July 2013. The project seeks to produce an SVQ that is attractive to managers in fish frying, processing, mongering and seafood manufacturing sectors. This SVQ may well become a professional qualification, and will certainly underpin the advanced modern apprenticeship in Scotland. For more information and to participate in the consultation please visit the Level 3 SVQ webpage or register your interest with Seafish here.
Consultation over new (for Scotland) fish and shellfish units has to be finished by the 9th August so that we can move on to consultations over structure and the makeup of the qualification. You can join the consultation process at any time my contacting Seafish or the project consultant. All details are on the Level 3 SVQ webpage. [update Feb. 2014 - the new L3 SVQ was launched in Jan 2014]

AFOS Micro Kiln – Latest Photos
Developed at the request of the Seafood Training Academy, the new AFOS Micro Kiln is the ideal training tool as it is a portable, fully fledged small commercial kiln, capable of cold and hot smoking fish and shellfish to an industry standard. The Academy has ordered three of these kilns in order to establish smoking training centres at Academy Partner sites at Colleges in Grimsby and Workington.
The third kiln is available to deliver courses anywhere else in the UK. A programme of training programmes is expected to be announced by September 2013. For more information please visit the webpage on smoking programmes.
Micro kilns will be available to buy from AFOS soon, and we expect there will be interest amongst small producers / fishmongers and hobbyists for the 'Micro'. The Seafood Academy will be offering a range of training courses including a 1 day introductory course and our 5 day advanced practical course.
The Kiln is around 2m tall, with a heater for hot smoking, and is supplied with with mesh trays, banjos and speats, and the flutter valve at the rear and kiln top fan/exhaust valve allows a high degree of control to the operator.
Level 3 Fish and Shellfish Vocational Qualifications – outstanding interest
The level of interest in this new qualification for managers continues to grow. For the latest news on the take up of this qualification, and access to the latest information, please visit this webpage.
The latest employers to sign up for level 2 and 3 fish and shellfish qualifications includes Mister C's of Selby, who are the first UK fish frier to register for the Level 3.
June 2013 Seafish e-Newsletter
Additional content to the emailed edition of the June Seafish e_Newsletter is in purple.
Seafish June 2013 Newsletter – Onshore Training Update
So far, June has been a very busy month for onshore training activities. At the beginning of the month the Level 3 proficiency qualification in fish and shellfish was approved, and just 2 weeks later the first candidate has signed up to complete their Level 3 Diploma in Fish and Shellfish Industry Skills.
Fishmonger, David Witts, owns two fishmongers in Pershore and even with 26 years of experience in the business has decided that he and all of his staff will complete fish and shellfish qualifications over the next 18 months.
PHOTO - David Witts and Tom Cobbold, who along with Liza Davies will all undertake fish and shellfish industry skills apprenticeships / qualifications.
The Level 3 qualification is ideal for fishmongers as it includes underpinning knowledge units on fishmonger practice and the fishmonger industry, in addition to those product knowledge and display units that are also in the Level 2 programme. Leaflets explaining the advantages and disadvantages of the Level 2 and Level 3 for fishmongers, and other job roles, is available on this webpage. The Diploma provides opportunities to do additional units compared to the Certificate as it's almost 33% bigger.
Other onshore news:
• Improve Ltd has started programme to develop a Level 3 SVQ in fish and shellfish. This management level qualification should be available in Scotland by early 2014; Improve and Seafish will start the process by contacting employers large and small, in Scotland and elsewhere to establish a consultation group that can comment on the final structure of the Level 3 SVQ. As qualifications in Scotland are slightly different from those elsewhere in the UK, the SVQ will be very similar to, but not identical with the Level 3 IPQ already available outside of Scotland. For more information click here.
• Seafish and the Seafood Training Academy draft and publish a range of employer guides to qualifications and apprenticeships in fish and shellfish; These leaflets cover all aspects of fish and shellfish vocational qualifications and apprenticeships. They are available on this webpage. Other leaflets are in preparation so please bookmark the page. If you would like Seafish and the Seafood Training Academy to develop a leaflet or other guidance for you then please email your request to academy@seafish.co.uk
• Harrods apprenticeship vacancy – applications are now closed as Harrods has enough candidates to interview, but other employers are still looking for apprentices, and potential apprentices are still looking for employers to give them a chance. We recently drafted an apprenticeship poster for one employer who had spent several weeks trying to find and apprentice. We are pleased to report that after just a week in the window of the fishmonger's shop the recruitment problem appears to have been solved. Here's a low resolution example of the poster. We can produce a bespoke poster for you to print out and place in a window, notice board or sometimes even in your local job centre. Contact us or your local apprenticeship provider if you would like to take advantage of this service or if you want help finding an apprentice.

---
May 2013 Seafish e_Newsletter
Issues raised in the May edition of the Seafish e_ Newsletter.
Harrods to recruit apprentice fishmonger'
Prestigious Knightsbridge-based department store Harrods, is to recruit its first fishmongering apprentice later this year. The apprentice will undertake an intermediate fish and shellfish apprenticeship delivered through Duchy College Cornwall and actively supported by Billingsgate Seafood Training School. Following recruitment and induction, the apprentice will embark on a challenging and rewarding programme of training, learning and assessments during 2013/14 which should culminate in the successful completion of a Level 2 fish and shellfish industry skills certificate in 2014. Harrods will start the recruitment process on Friday 17th May and you can expect further announcements as the apprentice achieves key milestones in their development. PHOTO – Harrods have an impressive fish counter display.
Three new fish and shellfish apprenticeship centres recognised by Seafish
Following on from our work with the Duchy College Cornwall and Meat Ipswich Ltd in 2012, to enable them to offer fish and shellfish apprenticeships and related qualifications, we are pleased to announce three new Seafish recognised centres for 2013. Blackpool and the Fylde College and ESTC Ltd are two FDQ Approved Centres who have agreed to work closely with Seafish to support apprenticeships in fish and shellfish. ESTC is based in Nantwich, and both centres are well placed to support employers in the West of England.
The third centre is Cambrian Training Ltd, who as a Pearson Group Approved Centre will be able to support employers in the fish and shellfish industry throughout Wales. All three centres are in touch with employers and are ready for your enquiries.
Filling in the gaps – last pieces in the puzzle
Seafish and the Seafood Training Academy are working hard to ensure that fish and shellfish employers throughout the UK are able to access a suitable provider of apprenticeships, proficiency qualifications and fish specific training. By the end of 2013 we hope to have filled all the gaps and to have up to 10 Apprenticeship Providers recognised and active in supporting apprenticeships in fish and shellfish for fishmongers, merchants and others working in our industry.
Whether you are a national supermarket chain, or a mobile fish sales business, the apprenticeship should be achievable and accessible for you and your employees.
The only part of the UK without a suitable fish and shellfish Apprenticeship Provider is Northern Ireland, and we hope to have filled in this piece of the jigsaw by this Autumn
Seafish and the Seafood Training Academy are publishing a series of Approved Centre profiles on the Academy website under the heading "Working With.." To find out more, and to contact a suitable Apprenticeship Provider, please email academy@seafish.co.uk or look on the Working with.. section.

Apprenticeship Programme for London and the South East
An encouraging response to our request for expressions of interest means that this programme is likely to go ahead, starting in September 2013. For employers and apprentices to fully participate in this programme we do advise that apprentices should be recruited well in advance, and should have completed any company required probationary period. Any employer or employee interested in the opportunities presented by an apprenticeship should contact Billingsgate Seafood Training School as soon as possible for an information pack on apprenticeships. Employers outside of the South East or London should contact academy@seafish.co.uk as there will be similar opportunities in other parts of the UK.
First Welsh Fishmonger Apprenticeship (at Fabulous Fish in Chepstow)
For some months, Sarah O'Conner of Fabulous Fish in Chepstow, has wanted to be the very first employer in Wales to offer someone an opportunity to undertake a fish and shellfish apprenticeship. Now that Cambrian Training Ltd is approved to deliver the apprenticeship throughout Wales, it looks like Sarah will very shortly get her wish.
Sarah was last featured on the Seafood Academy website as the fishmonger who battled through the January snowstorms in Wales to get essential fish to Grimsby for Seafish's Advanced Quality Assessment training course. "Perhaps now we can do something to start to return that favour by helping Fabulous Fish get the best out of their apprenticeship opportunity," said Lee Cooper of Seafish.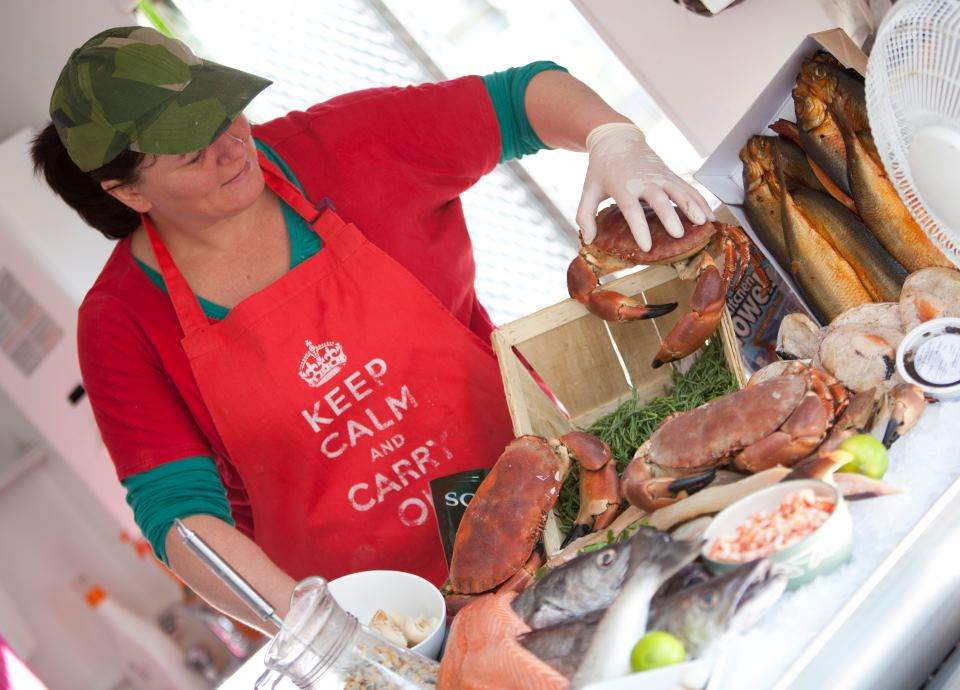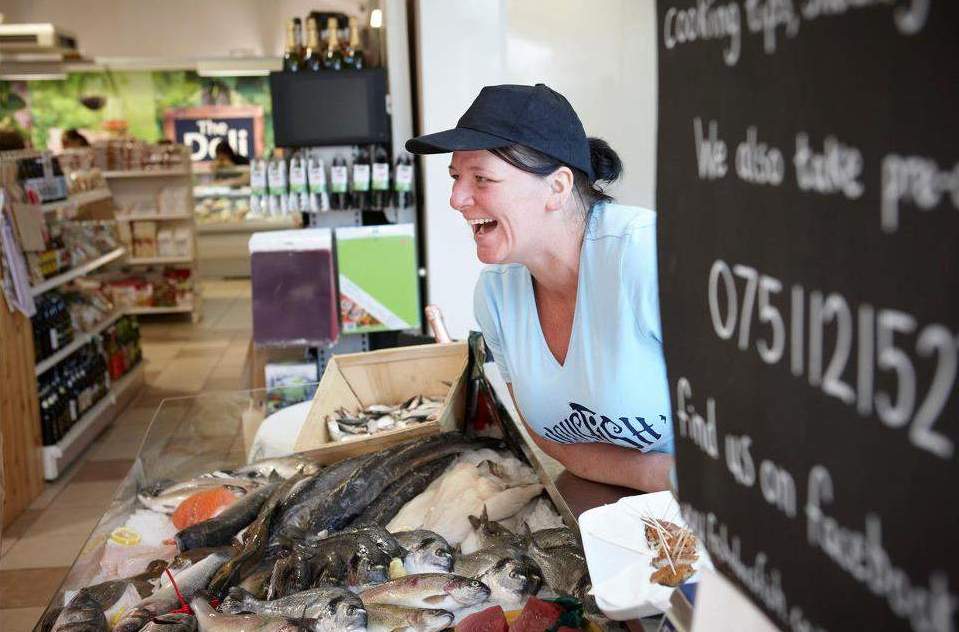 PHOTO - Sarah is equally at home with crabs and customers.
Advanced fish and shellfish apprenticeships target managers/senior fishmongers
Specialist awarding organisation, FDQ, have confirmed they expect to offer the new Level 3 Fish and Shellfish Industry Skills qualifications this summer; these are currently with the regulator for accreditation. Newsflash - Level 3 certificate and Diploma available via FDQ from Friday 24th May 2013. See here for more details.
These qualifications will be of particular interest to managers/senior fishmongers in the industry as they provide a management level qualification with tailored fish and shellfish content. Areas of interest to fishmongers include:
• Maximising sales
• Managing food retail operations
• Principles of fish and shellfish product knowledge
• Principles of the fishmonger industry
• Principles of fishmonger practice
• Principles of fish/shellfish displays
As well as units concerned with the management and monitoring of intake, storage, waste, personnel and a host of other critical functions.
While the Advanced Apprenticeship will not be available until September or later in 2013, the changes to funding for 24+yr old learners planned for August 2013 make it critical that employers interested in this advanced apprenticeship contact Seafish without delay.
.

---