Fish and Shellfish Industry Skills (FSIS) Apprenticeships are available at two levels for managers, supervisors, team leaders and operatives in occupations ranging from fish filleter to fish and chip shop manager.
Training Academy Prospectus
current version of the prospectus is here.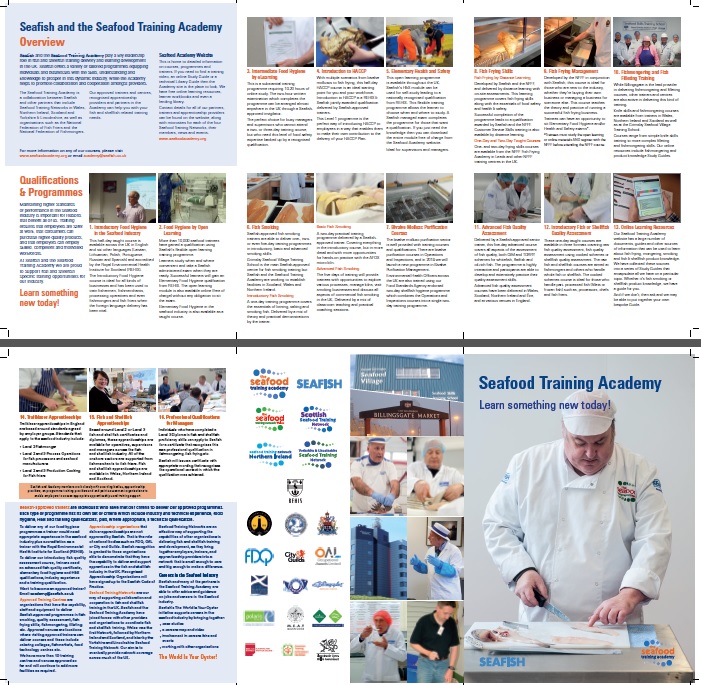 QR Codes
Click on the QR Here link for each leaflet below and you will load up a QR code for that leaflet. You can use the QR code on your apprenticeship poster or other promotional materials.
If you need help producing your own QR code then simply email the web address to academy@seafish.co.uk and we'll do it for you.
Fish and Shellfish Posters
- Poster artwork available here
Apprenticeship Posters
We are able to develop a bespoke poster for your business free of charge, changing the text in the white and yellow boxes. You can do this yourself using the two publisher files below, or simply handwrite your own text. Order your printable posters from Seafish, free of charge to recognised apprenticeship providers and their clients (within reasonable limits).
Blank posters can be overprinted with your own text - see this before and after example.
Example poster to advertise apprenticeship opportunities - This version only available as a download while this version is still available as a hard copy from Denise in Grimsby.
Diagnostic Toolkit
This diagnostic toolkit provides easy access to FDQ fish and shellfish units and qualifications and keeps track of the rules of combination.